---
For over a half century, Dowson Farms has evolved into one of the largest farming operations in the Mid-West. We have been fortunate enough to make strategic investments in capabilities and technologies that have lead to the best long-term growth and profitability prospects based on the value they deliver for our landowners. We have a broad mix of businesses and capabilities that combined provide business insight and solutions to the landowner. Our business model, supported by our strong financial position, enables us to deliver consistent returns on investment for our landowners in these volatile economic environments.
Our production and what we stand for, underscores the value of investing in the right employees, marketing, research advisors, grain merchandisers, seed, chemical and fertilizer companies. Our relentless focus on quality agronomy and innovation is to drive efficiency and production to its highest level AND ultimately value to the landowner.
Today, our landowners include individuals, retired farmers, farmers who are still farming, multi-member families, estates, trusts, farm managers, banks and attorneys. We have placed thousands of acres for land-buyers with a strong rate of return on investment. If you own some farm land, have an interest in owning some farm land, or would like to sell some farm land, we encourage you to contact us. We would enjoy the opportunity to learn more about you and for you to learn more about us!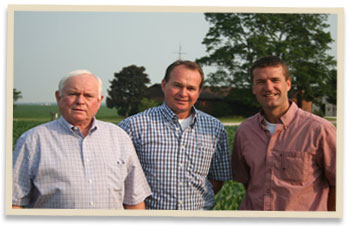 Sincerely, John, Chris and Darrel


---
The Dowsons have rented from me since the mid 90's. There have been many changes through the years since then. Prices have gone up and down, and there have been good years and wonderful years. Through all of it, I have always called them with questions, concerns, and changes. We have had good conversations, fair deals, they understand issues, and treat people with respect. They are great farmers with knowledge of how to run everything from the care of your fields, crops, and maintenance to making payments on time. I live in Florida and feel safe having them farm not only my ground-but also my mother's.
Long Time Family Landowners
My business dealings with the Dowsons has been very courteous and professional. They have always done what they said they would and I have very much enjoyed my business relationship with them and look forward to continued business activity with them from both a farm management and real estate brokerage perspective.
Farm Manager
In late 2007, we made the very wise decision to switch farm operators from an old fashioned crop share arrangement with a local operator, to our current contract with Dowson Farms. It was the best decision our family has made in the 130 year history of our farms in Christian County and Sangamon County! The relationship that has developed since the switch could not be more perfect. Dowson Farms has gone above and beyond in their management of our land. They are on time with payments (and actually early) and their communication levels are superb. They even arranged for waterway reconstruction on our Christian County farm that cost the family zero $ and had Darrel Thoma not assisted us, it would never have been done. Their attention to detail is extremely professional. It is no wonder that Dowson Farms have become one of the premiere farm operations in the midwest! We look forward to a long and prosperous relationship!
Out of State Large Landowner
"HIGH TRUST EQUALS HIGH VALUE". Dowson Farms has worked with me for the past fifteen years. John, Chris and Darrel are good honest, loyal, hard working farmers/businessmen who always do what they say they'll do. My life's experiences have taught me to surround myself with good people, and Dowson Farms has always measured up.
Central Illinois Landowner
I "cash rented" my land to Dowson farms back in 1991 with a handshake deal. Their payments have ALWAYS been on time and the application of fertilizer has been timely and adequate. This is confirmed by soil tests. I was glad to see them make the vast capital outlay that was required by their new grain complex in Divernon as it will surely expitite grain handling, especially at harvest. I was also glad to see them erect the liquid fertilizer facility, also at great expense, to assure availability of this product that I prefer over anhydrous ammonia because it doesn't kill the earthworms and I believe this is noteworthy with the concern about drainage and compaction.
Investor Landowner

---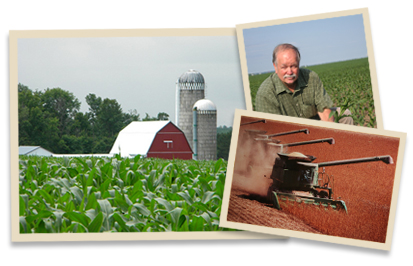 Dowson Farms
2356 W Boarman Road
Divernon, IL 62530-9057